While you are here, feel free to stay at one of the area's fine hotels. They feature comfortable beds and accommodations, refreshing continental breakfasts, and a place to relax along side the swimming pools.
We do have a small selection of rooms reserved at C'Mon Inn. Book early!
C'mon Inn

1586 U.S. 59 Thief River Falls, MN 56701
(218) 681-3000

---
AmericInn

1920 U.S. 59 Thief River Falls
(218) 681-4411

America's Best Value Inn & Suites

1915 U.S. 59 Thief River Falls, MN 56701
(218) 681-6205

Quality Inn (formerly Best Western)
1060 Highway 32 South Thief River Falls, MN 56701
(218) 681-7555

Grand Stay

1031 Wendt Dr Thief River Falls, MN 56701
(218) 681-9988

If you are in need of other accommodations, contact the church at
218-681-2285.
---

Stick around after the evening services for soup, sandwiches, and specialty coffees prepared by our in-house chefs. This is a perfect ending to a chilly winter day.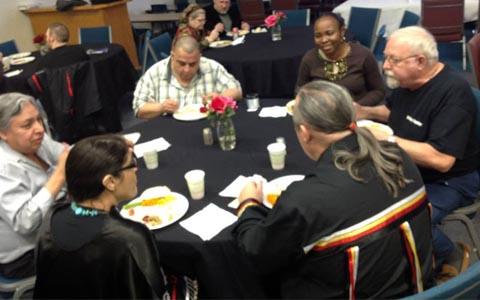 During the conference, there will be opportunities for you to gather with your closest friends from the farthest places over good food prepared by our hospitality staff. Whether it's coffee, soup and sandwiches, or your favorite dishes, you will find yourself in good company. We invite you to spend time getting to know someone new; establish new connections.
As we unite together, the personal bonds and relationships we establish with each other are key to making a unified impact on the world, where ever you come from. When you return to your region, not only will you have the lasting impact of the message and ministry that you will receive, but you will also have a closer relationship with people from across the world.